Getting rid of ants in
Melbourne, FL
is no easy task. Ants are social insects that live in colonies, which means you must fully eliminate them to avoid another infestation down the road. Worse yet, store-bought bug sprays only kill a few ants at best and cause the rest of the colony to scatter around your home. Luckily, Akin Pest Prevention Plus can help! Our team is trained to get rid of ants and prevent them from coming back.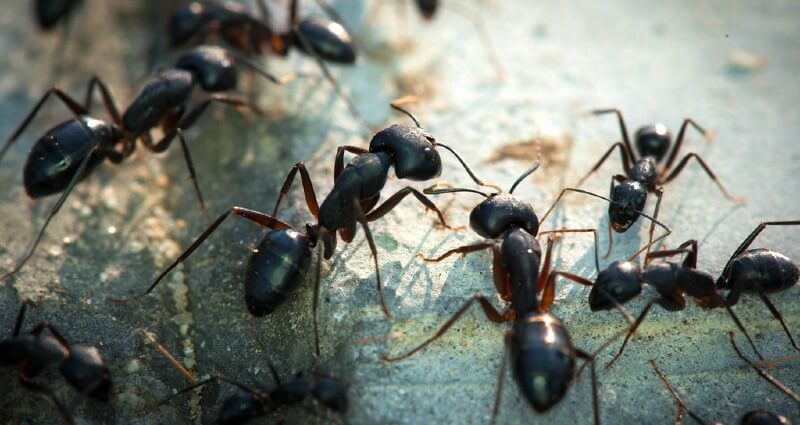 Our Unique Approach To Ant Control
Ants enter your home through the smallest openings looking for water and food. Once they find a source, they will leave a pheromone trail for other ants to follow. Our team knows this and stops ants dead in their tracks. Learn more about our unique approach to ant control below:
We'll perform a thorough inspection in and around your home. Inside, we'll inspect all carpet edges, doors, windows, and your kitchen. Outside, we'll check your foundational walls, plus areas of vegetation and mulch.
2. INTERIOR ANT TREATMENT
We'll place professional ant baits in areas of activity and trails. Ants feed on this bait and take pieces back to the queen, killing the entire colony. This approach ensures the whole ant nest is eliminated.
3. EXTERIOR ANT TREATMENT
First, we'll caulk and seal cracks and crevices to prevent exterior ants from entering your home. Next, we'll carefully apply a non-repellent insecticide around the perimeter and entry-points of your home.
Why Choose Akin Pest Prevention Plus
We're passionate about helping people just like you get rid of unwanted pest problems. As such, we are proud to be the only pest control company in
Melbourne, FL
promising excellence in value, service, and trust.
Frequently Asked Questions
Ants invade homes looking for food and water. So if you leave dirty dishes in the sink, food residue on your counters, or crumbs on the floor, you're essentially inviting meal-seeking ants into your home. This becomes a problem when those ants set up their nests in your walls, on your lawn, and around your home's foundation.
Ant infestations are a pretty big deal. One of the biggest problems related to ants is food contamination. Ants carry bacteria on their bodies, which spreads when they crawl in your sink and across your countertops. Now, only a few ant species carry insect-borne diseases, but finding any ants in your home is an unpleasant surprise.
To get your ant problem under control, a proper inspection is your very first step. This allows us to design a unique program for your specific situation. So please give us a call at
321-984-2888
to schedule your ant inspection. Our team is thoroughly trained in eliminating ant colonies and will keep these pests where they belong: out of your business and home.
Tell Your Family & Friends and Get $25 OFF.
Refer your family and friends to Akin Pest Prevention Plus and receive $25 off your next pest control service.
Ant Control
Ant Inspection
Interior Ant Treatment
Exterior Ant Treatment
Satisfaction Guaranteed
★★★★★
"I had millions of ants in my pool every day. My yard was alive despite a year of working with slug-a-bug. I hired Chip from Akin and he was persistent, responsive, and best of all, NO MORE ANTS in my pool! Thank you!"
- Foodie
★★★★★
"I will NEVER look further than Akin! I truly feel like family and like I'm being taken care of when I need it. They are also very quick and knowledgeable, and love sharing that knowledge with their customers to keep us informed as well!"
- Michaela E.
★★★★★
"Best in the county! Solid family-owned small business, responsive, detailed, knowledgeable, and treats his customers like family. 10/10."
- Derek