Our Bee Control & Removal Service
Bees are important because they pollinate the flowers of many plant species. Furthermore, bees only attack people when their territory is threatened. The problem is these stings are painful and can be deadly if the person being stung is allergic and goes into anaphylaxis shock. So if you have bees or hives on your property, you'll want to get rid of them as soon as possible! Our team is trained to remove all types of bees, plus we can pre-treat your home to prevent them from settling in the first place.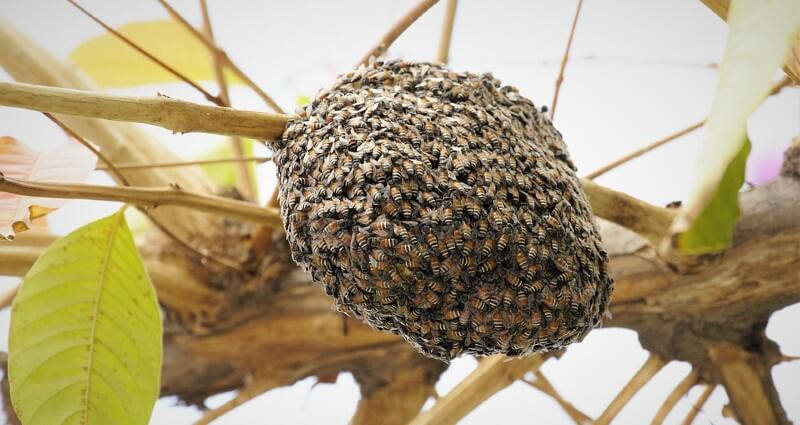 Our Unique Approach To Bee Removal
Calling a professional to help you get rid of bees is your best option, even if you're comfortable removing them on your own. Bees make nests in tricky spots like the ground, your home's walls, and other hard-to-reach areas, plus getting rid of bees depends on the time of the year.
We'll survey the ground, grass clumps, and structures on your property to locate each nest and identify the bee species. This step allows us to properly treat and remove the nests we find during our inspection.
We'll use an aerosol to knock down the nest. This leaves a residual that lasts for 8+ weeks. For severe infestations, we may need to repeat this process a few times to ensure your bee problem is taken care of.
We'll apply dust in the hive's opening, ensuring everything inside dies, including larvae and immature bees. We'll also use dust around the top of the hive to prevent bees from coming out of other locations.
After the bees are gone, we'll seal all the holes and entrances with plugs, cork, putty, or a caulking compound. The best time to do this is in the early Fall months, so bees don't chew new openings in other locations.
Why Choose Akin Pest Prevention Plus
We're passionate about helping people just like you get rid of unwanted pest problems. As such, we are proud to be the only pest control company in
Melbourne, FL
promising excellence in value, service, and trust.
Frequently Asked Questions
Tell Your Family & Friends and Get $25 OFF.
Refer your family and friends to Akin Pest Prevention Plus and receive $25 off your next pest control service.
Bee Removal
Thorough Inspection
Liquid Treatment
Dust Application
Seals Holes & Openings
★★★★★
"I had millions of ants in my pool every day. My yard was alive despite a year of working with slug-a-bug. I hired Chip from Akin and he was persistent, responsive, and best of all, NO MORE ANTS in my pool! Thank you!"
- Foodie
★★★★★
"I will NEVER look further than Akin! I truly feel like family and like I'm being taken care of when I need it. They are also very quick and knowledgeable, and love sharing that knowledge with their customers to keep us informed as well!"
- Michaela E.
★★★★★
"Best in the county! Solid family-owned small business, responsive, detailed, knowledgeable, and treats his customers like family. 10/10."
- Derek